Reflective Sew On Fabric -1 inch
"Reflective" Sew-On Safety Fabric Strip
Attention: International customers go to www.colesafetyinternational.com

Incredible Visibility! Super Bright!
Silver/Gray in daylight and reflects white. ANSI, EN471 Certified Level 2
Easy to apply, Easy care. (Machine Wash, Non-chlorine bleach, tumble dry low)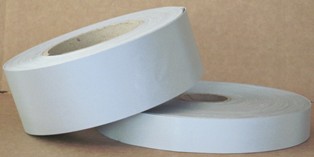 Sew On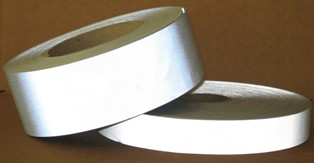 Sew On reflecting with flash camera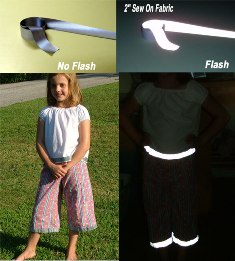 1" x 20ft $12.99
1" x 30ft $17.99
1" x 50ft $24.99
1" x 300ft $64.99
.
.
3M Scotchlite
Cast-Iron Black Reflective Fabric
10-mil thickness
350-400 CD/Lux/sq.m
Black Reflective taken with flash camera
The top stripe is the black reflective and the bottom stripe is the silver/gray, taken with a flash camera
1" x 20ft $17.29
1" x 50ft $42.99
Cole Safety Best Values
Customers also bought these items!